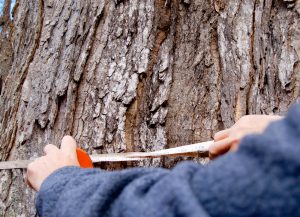 The District of Columbia ("D.C.") has a relatively long history of being known for its trees, stemming back to the planting of 60,000 trees initiated by the last Governor of D.C., Alexander "Boss" Shepard in the 1870s.  While his tenure was brief, his vision of D.C. being the "City of Trees" endured as tree planting efforts were continued by the Federal Government, National Park agencies, citizens, and leaders such as Lady Bird Johnson.  (See City of Trees by Melanie Choukas-Bradley 3rd Edition.)
Today, the goal of preserving and increasing D.C.'s tree population continues.  One of D.C.'s top sustainability goals is to increase the tree canopy of the city from 35% to 40% by 2032.  (https://doee.dc.gov/service/canopy-3000.)  In furtherance of this goal, updates to the Urban Forest Preservation Act, as set forth in the Sustainable D.C. Act of 2014, were enacted formally into law by Mayor Muriel Bowser in in 2016.  (D.C. Code § 8-651 et seq.)  "Sustainable D.C. 2.0" (http://www.sustainabledc.org/in-dc/sdc2-0/) continues to prioritize green space and trees and incorporates both into its climate mitigation strategies, along with strategies related to energy efficiency, healthy communities, and increased access to nature.
The D.C. Code now sets forth specific laws to protect "Heritage" and "Special Trees" that are governed by District Department of Transportation ("DDOT"), as will be explained below.  (https://www.dcregs.dc.gov/Common/DCMR/RuleDetail.aspx?RuleId=R0020859.)
However, these are not the only tree protection laws that developers must be aware of – the 2016 Zoning Regulations set forth even stricter tree protection standards for certain residential neighborhoods.  These neighborhoods are those that the D.C. Government considers important for tree canopy, air quality, soil protection and erosion, storm water management, and cultural significance.
Below are four types of tree-related issues to be aware of when planning a development project in D.C.  Knowing how these four issues apply to a specific project will save both time and money and will help ensure the overall viability of a proposed project, as just one relatively large tree in an inopportune place can have an immense and costly impact on a project.
Heritage Trees: Heritage trees are those trees with a circumference of 100 inches or more.  Pursuant to D.C. Code § 8-651.04a, it is illegal to "top, cut down, remove, girdle, break, or destroy any Heritage Tree" without a permit issued by the Mayor.  Such permits are issued sparingly and only for trees that are determined to be hazardous (as defined in D.C Code § 8-651.02) or "appropriate for removal" as described by the regulations (i.e. a Mulberry, Norway Maple, or Ailanthus tree).  As part of any removal application, an applicant must identify plans to relocate the tree to be removed to a new location.  Failure to comply with Heritage Tree requirements could result in a fine of at least $300.00 per inch of circumference of the Heritage Tree at issue.
Special Trees: Special Trees are any trees with a circumference between 44 inches and 99.9 inches, measured around the trunk at 4.5 feet from the ground.  Pursuant to D.C. Code § 8-651.04, it is also illegal for any person or entity "to top, cut down, remove, girdle, break, or destroy any Special Tree" without a permit.  Removal permits may be issued for hazardous trees and trees of an exempt species (Tree of Heaven, Mulberry, or Norway Maple).  Additionally, an applicant for a removal permit for a Special Tree has the option of paying into the Tree Fund $55.00 per inch of circumference of the tree to be removed.  Failure to comply with the Special Tree regulations could result in a fine of $300.00 per inch of the circumference of the tree illegally removed.
Tree Protection Mechanisms: DDOT requires protection mechanism measures in all construction zones.  These protection mechanisms include prohibiting construction activity around a tree's "critical root zone", which is a circle around the foot of a tree, with its distance from the tree measured by allowing one and a half feet of protection for each inch in tree diameter.  In addition, DDOT may require fencing to protect the critical root zone and the covering of all unpaved areas with a 10-inch layer of wood chips.  For further protection, DDOT sets forth requirements for mechanical boring under trees during construction.  DDOT conducts inspections and can issue stop work orders and fines if proper tree protections are not in place.
(https://ddot.dc.gov/sites/default/files/dc/sites/ddot/publication/attachments/guidelines_tree_protection_during_construction.pdf.)
Zones with Strict Tree Protection: Specific residential zones further prohibit "removing, cutting down, or fatally damaging" trees with a circumference of 12 inches or more, measured at a height of 4 feet 6 inches.  No more than 25% of trees having a circumference of 12 inches or more may be removed on lots in these particular zones and no trees with a circumferences greater than 75 inches may be removed.  Further, a total of no more than three trees with a circumference of 26 inches or more may be removed.  When engaged in development or building projects in these zones, it is recommended to consult with an arborist, certified by the International Society of Arboriculture.  (Subtitle C § 400 et seq.)
In sum, it is important to consider the trees on any lot involved in a development or construction project in D.C.  The lawyers in Cozen O'Connor's Zoning, Land Use & Development practice are well versed in navigating the Zoning Regulations and working with DDOT and the Office of Zoning in obtaining approvals and zoning determinations regarding both complex and simple projects.
Information about how to apply for Heritage and Special Tree Permits, Public Space Tree Permits, and the notification requirements for such tree removal is available at DDOT.  (https://ddot.dc.gov/sites/default/files/dc/sites/ddot/publication/attachments/DDOT%20Tree%20Permits%20%20Laws.pdf.)