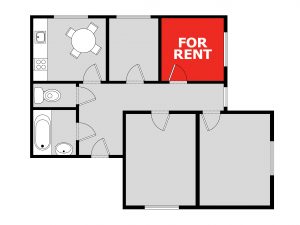 Community housing, boarding houses, and communal living arrangements have been around since the 1840s, as indicated by a brochure by the Academy of American Poets when it identified the boarding houses where Walt Whitman and Edgar Allen Poe rested their heads.  Even though such concepts long have been a part of society, co-living facilities are receiving new scrutiny in an unregulated gray area of DC zoning regulations, as more developers become interested in meeting this segment of the market.
You may be asking yourself, "What is co-living, exactly?"  Co-living is a modern form of housing where residents intentionally share living space and, ostensibly, choose to live around a shared set of interests.  Those interests in many cases revolve around guiding principles like: openness and collaboration; social networking; and the sharing economy.  The amenities and locations can be great – many co-living dwellings feature shared kitchen space and living rooms – and, often, the monthly rental price is much lower than for a standalone, one-bedroom unit.   With the resurgence of this product, then, rather than scouring Craigslist for a roommate to share the rental costs while, hopefully, avoiding the scammer, party animal, or slob, co-living can be a much preferred alternative.  Perhaps unsurprisingly, then, the millennial generation (and others) have embraced this ancient concept and given it new life.
Many tag co-living as "dorms for grown-ups," but it is not just 20-somethings who stand to benefit from co-living arrangements.  Innovative co-living housing designs are being proposed for all age groups, including the aging boomer population that wants to maintain a social lifestyle throughout its retirement years.  Further, co-living arrangements offer new opportunities for low-income households, as well as households with disabled members.
Founded in 2015, Common, a co-living startup offers fully furnished apartments in New York, the Bay Area, Chicago, and Washington, DC.  Here, in DC, Common currently offers two current locations: Chinatown and Shaw.
The Bowman, in Chinatown at the corner of 6th and I Street NW, is located in a Downtown zone district that permits higher density and apartment uses.
However, given its potential for bolstering housing affordability, the subject commands precious little discussion in the District's Comprehensive Plan or Zoning Regulations. There is a sole mention in the Comprehensive Plan, which reads:
"Encourage cooperatives, shared housing, and co-housing (housing with private bedrooms, but shared kitchens and common areas) as a more affordable alternative to condominiums. Ensure that such housing is appropriately regulated to avoid adverse effects on surrounding residences and neighborhoods." DC Comprehensive Plan, Policy H-1.3.4: Co-operatives and Co-housing. 505.9, pg. 5-16.
Co-living is still gaining traction, but the exact way it will be treated in the District remains unclear.  The Comprehensive Plan language cited above suggests support for the idea of co-living, but also seems to conflate the ideas of "co-living" and "co-op housing".
Interestingly, possibly due to the "newness" of the product, the Zoning Regulations do not have a separate definition for "Co-living".  Instead, co-living regulations are subject to the definition of "household", which reads:
Household: Shall be defined as one (1) of the following:

(a) One (1) family related by blood, marriage, adoption, or foster agreement;

(b) Not more than six (6) persons who are not so related, living together as a single house-keeping unit;
Due to this lack of a specific definition, a recent Board of Zoning Adjustment ("BZA") case may have chilled prospects for co-living in some lower density zone districts as evidenced by a recent appeal of a co-living building by the Richardson Place Neighborhood Association. (BZA Appeal No. 19441). The grist of the Neighborhood Association's dispute was that although the developer had represented in its permit applications its intention to build two adjacent "flats", the actual intended use of co-living would invariably exceed the occupancy limit of 6 unrelated persons living together as a "family."
The BZA has decided the case, but the written order has not been issued yet.  In the aftermath of this decision, it is clear that more work needs to be done to clarify the regulations of co-living arrangements in the District. Further, the District has an opportunity to proactively support living arrangements that can serve a broad spectrum of DC residents who seek affordable, open, and collaborative housing options.
Stephen is the Planning Services Director with the firm and is not an attorney.